Kenya, known for its stunning landscapes, rich wildlife and vibrant culture, is also making its mark in the world of architecture. Over the past few decades, the country has witnessed remarkable growth in its urban landscape, giving rise to awe-inspiring skyscrapers. In this article, we will explore the top 10 tallest buildings in Kenya, each a testament to modern design, engineering excellence, and the nation's economic progress.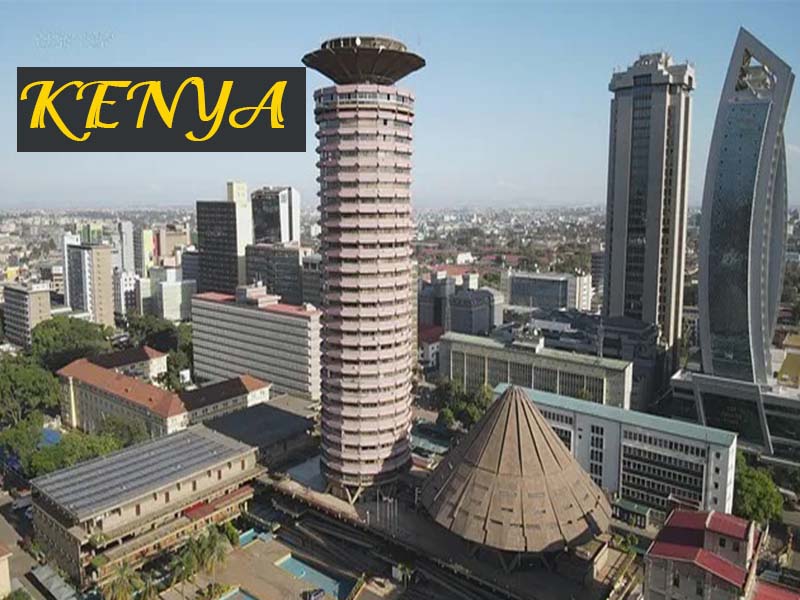 List of the tallest buildings in Kenya
1. Britam Tower
At the pinnacle of our list is the iconic Britam Tower, proudly standing as the tallest building in Kenya at 200 meters.
Britam Tower is located at the junction of Hospital Road and Upper Hill Road, in the Upper Hill business district of Nairobi.
This 32-story marvel located in the heart of Nairobi's financial district offers unparalleled views of the city and beyond.
2. UAP Old Mutual Tower
The UAP Old Mutual Tower, rising 33 stories and reaching a height of 163 meters, holds the distinction of being the second tallest building in Kenya.
UAP Old Mutual Tower is situated at the junction of Upper Hill Road and 1st Ngong Avenue in Upper Hill. It's a symbol of corporate prowess and a showcase of Kenyan architectural ingenuity.
This elegant skyscraper boasts cutting-edge design and hosts various businesses, reflecting the country's rapid economic growth.
3. Times Tower
Times Tower is the headquarters of the Kenya Revenue Authority and stands tall as the third tallest building in the country.
It reaches 140 meters and embodies the importance of efficient tax collection and administration in Kenya. Times Tower is found on Haile Selassie Avenue in the heart of Nairobi. The building's elegant modern design adds a distinctive touch to Nairobi's skyline.
4. Teleposta Tower
This 32-story skyscraper known as the Teleposta Tower is a prominent feature on the Nairobi skyline reaching a height of 120 meters high.
The Teleposta Tower is located on Kenyatta Avenue in the city centre of Nairobi. With its cylindrical design and futuristic look, it is a hub for telecommunications and government offices.
5. I&M Bank Tower
The I&M Bank Tower is a 26-story skyscraper that stands 120 meters high in Nairobi. The I&M Bank Tower is situated at the intersection of Kenyatta Avenue and Koinange Street in the city center of Nairobi.
It's not just about banking but also about architectural innovation, combining glass, steel, and state-of-the-art engineering to create a visually stunning building.
6. Delta Corner
Delta Corner is located on Waiyaki Way in the upscale neighbourhood of Westlands and is the sixth tallest building in Kenya at 100 meters.
This 24-story skyscraper is known for its striking contemporary design, incorporating both office spaces and a shopping centre. It perfectly blends modern commerce with architectural beauty.
8. PwC Tower
The PwC Tower is situated along Chiromo Road in the heart of Westlands, reaching a height of 80 meters.
This 20-story skyscraper serves as the East African headquarters for PricewaterhouseCoopers and is a testament to both financial and architectural success
9. Uchumi House
Uchumi House is a 20-story skyscraper that stands as a symbol of Kenya's rich retail history reaching a height of 80 meters.
Located on the bustling Moi Avenue in Nairobi, it serves as the headquarters for Uchumi Supermarkets and is an iconic building in the city's commercial landscape.
10. KICC Helipad
Although the Kenyatta International Convention Centre (KICC) is renowned for its conference facilities, it also features an incredible helipad on its rooftop, which elevates it to the ninth position on our list.
It is 84 meters high and situated at the junction of Harambee Avenue and City Hall Way in the city centre. The helipad offers panoramic views of Nairobi, making it a unique and captivating addition to Kenya's skyline.
11. Hazina Towers
Rounding out the top 10 is Hazina Towers, a 17-story building located along Monrovia Street in the heart of Nairobi.
It stands at 71 meters and its striking architecture and prime location make it a hub for various businesses, showcasing the country's growth and ambition.
Full list of the tallest buildings in Kenya
Posta House – 27 floors
Parliament Tower – 26 floors
Le'Mac, Westlands – 27 floors
Cooperative Bank House, Nairobi – 27 floors
Upper Hill Chambers- 26 floors
Social Security House – 28 floors
KCB Plaza, Nairobi – 24 floors
Moi University Pension Scheme – 26 floors
Sanlam Tower – 20 floors
In summary, this is the listing of the top 10 tallest buildings in Kenya. Britam Tower (200 meters), UAP Old Mutual Tower (163 meters), Times Tower (140 meters), Teleposta Tower (120 meters), I&M Bank Tower (120 meters), Delta Corner (100 meters), PwC Tower (80 meters), Uchumi House (80 meters), KICC Helipad (74 meters), Hazina Towers (71 meters)
These top 10 tallest buildings in the country offer a blend of style, function, and environmental consciousness. As Kenya continues to thrive, we can only expect more iconic skyscrapers to grace its urban landscape.