Kenya is a country with many stars in every sector of the economy. Among the most popular are those from the sports industry. Both local and international screens often feature local sportspersons for their unmatched display of talents. The list of the best athletes in Kenya is here for you.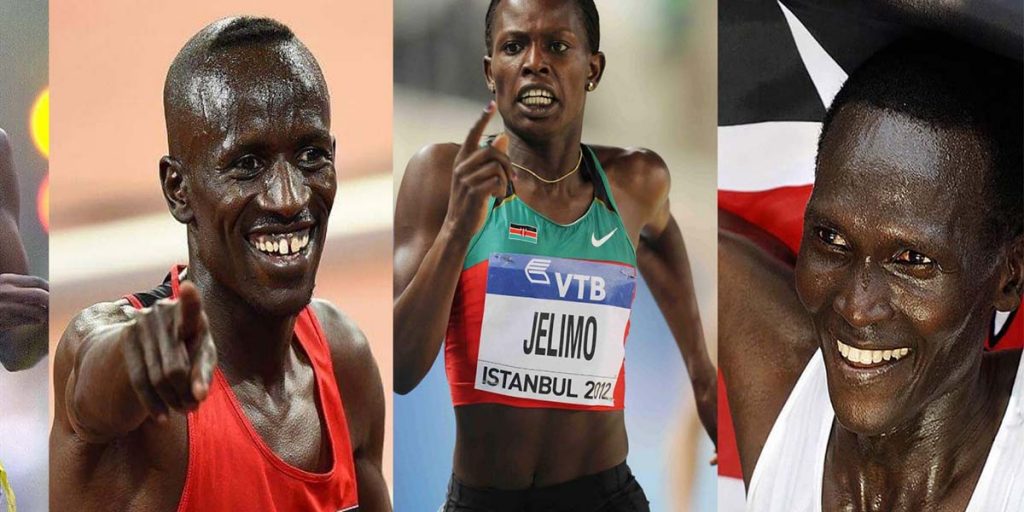 READ ALSO: 11 Top facts about Kenyan people
Most Kenyan runners train at Iten town because the region is conducive for the sport. Coincidentally a good number of these athletes come from the Rift Valley region. Iten sits 7,000ft above sea level, making it a destination for aspiring marathoners. For this reason, these runners develop powerful lungs for better performance.
Best athletes in Kenya ever
Many Kenyan athletes have been winning awards, making the country proud. Stats indicate that football is the most popular sport in Kenya, but fans think that athletics is the best. Know the best athletes in Kenya now.
1. Kipchoge Hezekiah Keino
Keino was born on January 17th 1940 in Nandi County. In his early age, he used to play rugby. Later after finishing his high school, he joined the Kenya police.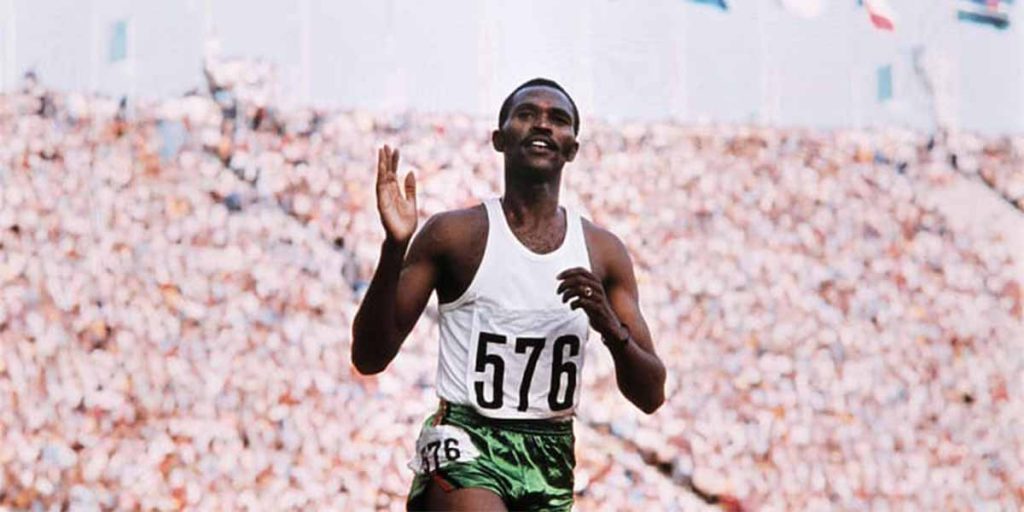 In 1962, Keino started his athletic career at Commonwealth games in Perth, Western Australia, participating as a middle and long-distance runner. He was a two time Olympic gold medalist before retiring in 1973 as a Kenyan track and field athlete.
Keino was the chairperson of the Kenyan Olympic Committee (KOC) until September 29th 2017. He is also among the first athletes that made the country proud, besides inspiring other athletes who are now winning several awards. Keino was one of the 24 athletes inducted as inaugural members of the International Association of Athletics Federations Hall of Fame.
He is a husband to Phyllis Keino, and they have seven children. The two have established the Kipkeino primary, Kipkeino secondary, and Lewa Children's Home for orphans.
His favourite quote is ..' But there is no secret, for any country. And I would say about any country in the world. There is no secret – only hard work.'
2. Ezekiel Kemboi Cheboi
He was born on May 25th 1982 in Matira, Rift Valley, and is among the best athletes in Kenya. Kemboi is the only athlete to have won four consecutive world championships in the world. He won 3000metres steeplechase at the 2004 Summer Olympics, 2009 World Championships, 2011 World Championships, 2012 Summer Olympics, 2013 World Championships, and the 2015 World Championships.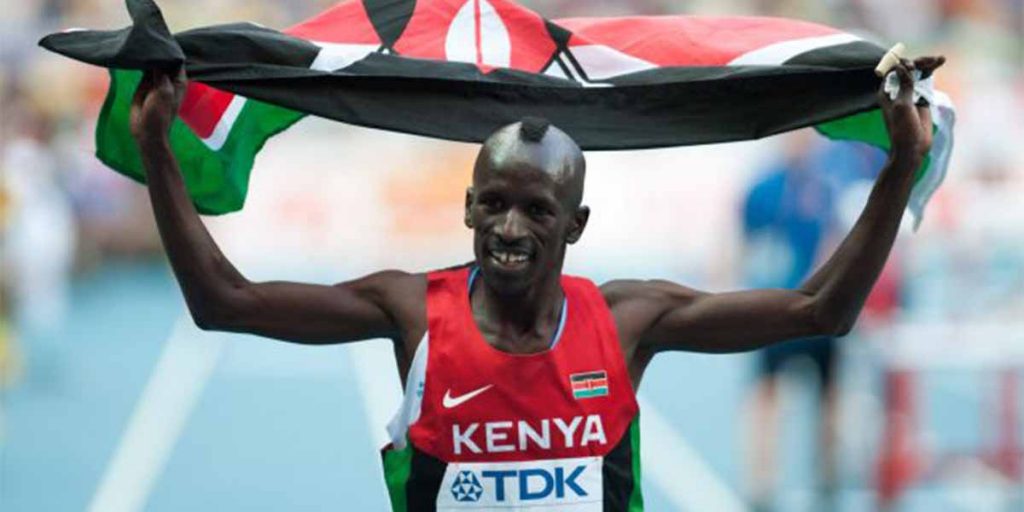 Kemboi is known to have as well rubbed shoulders with the country's top leadership, such as adorning the former president Mwai Kibaki with his Olympic gold medal in 2012 and handing a t-shirt to President Uhuru Muigai Kenyatta in Moscow. This legend is married to Jane Kemboi, and they have two sons. Besides, they own a 50-acre farm near Moi's bridge in Trans-nzoia County.
His favourite quote is, ' Each and every race I compete in is always my best. I do my best.'
3. Eliud Kipchoge
Born on November 5th 1984 in Kapsisiywa, Nandi County, Kipchoge is the fastest runner in Kenya. He participates in an Olympic marathon competition of 5000m and is one of the best marathoners in the world. On September 16th 2018, he won the world marathon in Berlin with 2:01:39 breaking the earlier record by 1 minute and 18 seconds.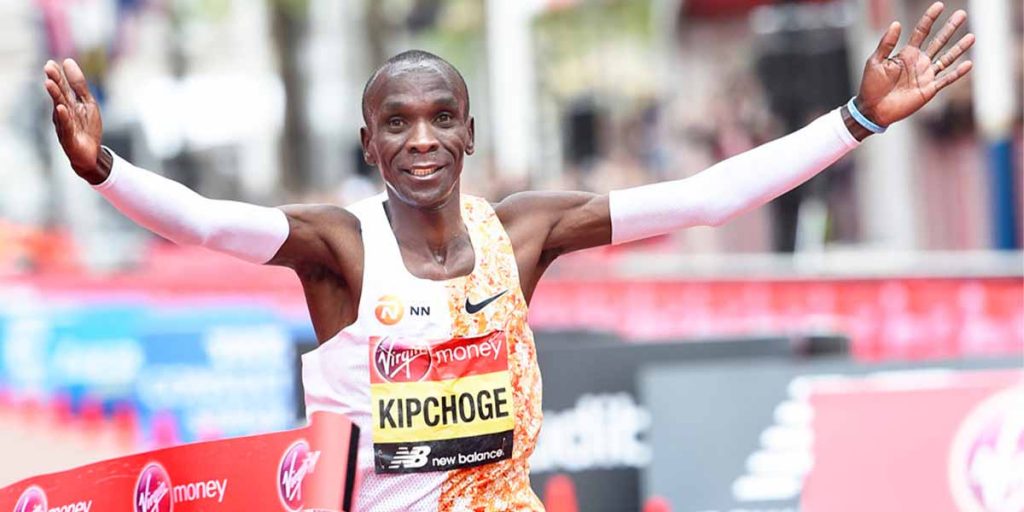 In his marathon challenge held on October 12th 2019 in Vienna, Austria, Eliud ran for 1:59:40:2 and broke a record as the first man to have run a marathon under 2 hours. Even if the competition was not standard, his new record was a good reason enough to put smiles on Kenyans' faces. Besides, Eliud has won the London marathon four times.
Also, out of the 13 marathons, he has participated, Kipchoge has won 12 of them. Kipchoge, his wife, and their three children live in Eldoret, Kenya.
His favourite quote is 'Athletics is not so much about the legs it's about the heart and the mind.'
4. Paul Kibii Tergat
Born on June 17th 1969 in Baringo District, Tergat is a former soldier in the Kenyan Air Force and a long-distance runner. Surprisingly, Paul realized his talent after graduating from high school. He is the first Kenyan to set the world marathon record from 2003 to 2007 at 2:04:55. The Runnerworld called him the 'Most comprehensive runner of all time.'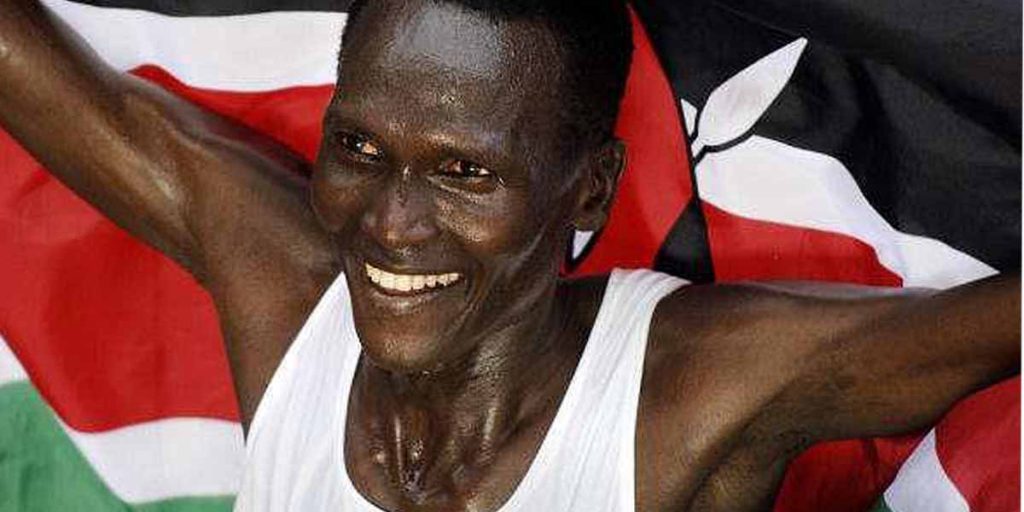 In his running time, Paul achieved many titles, more so on the track, cross-country, and the road. He won world cross-country championships five times.In 2004 he was named UN World Food Programme (WFP), 'Ambassador against Hunger.'
The New York Road Runners in 2010 awarded him the Abebe Bikala Award, becoming the first male athlete in Kenya to win the award. He is the founder of the Baringo Half Marathon 2001 that aims at nurturing young talents. Besides, he set up Paul Tergat Foundation in 2005 to help Kenyan sportspeople who are disadvantaged. He has a wife and four children.
His favourite quote is 'I, Paul Kabii Tergat, want always to watch my children eat with the knowledge that I have done everything I could for them.'
5. David Lekuta Rudisha
He was born on December 17th 1988 and is fondly known as 'Kind David' or 'Rudisha' by his fans. David is the world's record holder in the 800m race. He participated in the London Olympics on August 9th 2012 and set the world record as the only person ever to have run for 1:41 for the event. Besides, he won the World Olympic Championship in 2012 and 2016. He is also a two-time world champion of 2011 and 2015.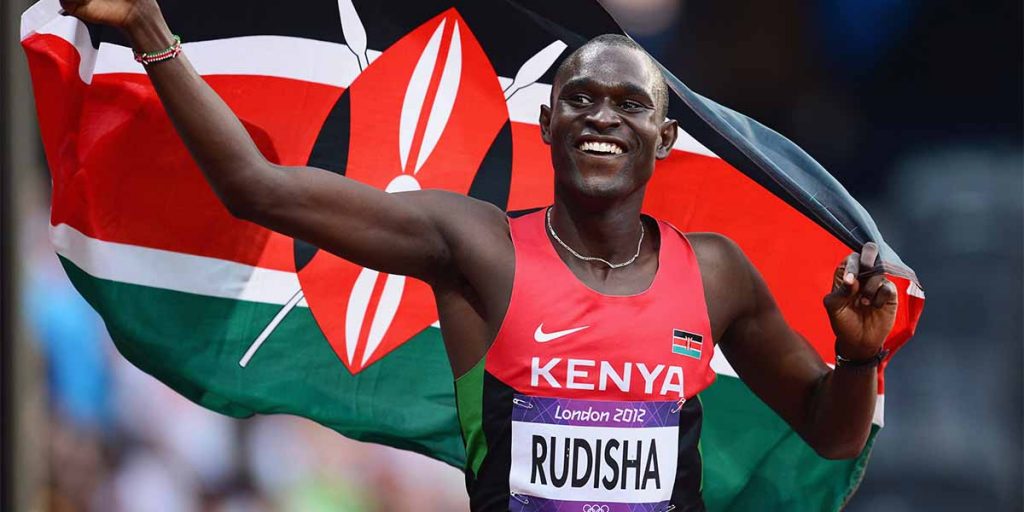 Rudisha participated in 500m for 57:69 and broke the world record. He ran 600m for 1:13:10, breaking Africa's record. Apart from being the 3-time track and field athlete of the year in 2010, he also won the IAAF World Athlete. Rudisha has a wife and two daughters.
His favourite quote is 'If I could handle winning and breaking the world record in an Olympic final, these others I can handle.'
6. Brigid Jepscheschir Kosgei
Born on February 20th 1994, Brigid is currently the world's record marathon holder for women running in mixed-sex races. Kosgei won the 2018 and 2019 Chicago marathons, the 2019 London marathon, a cross-country event, and Kalya Half Marathon in Kenya.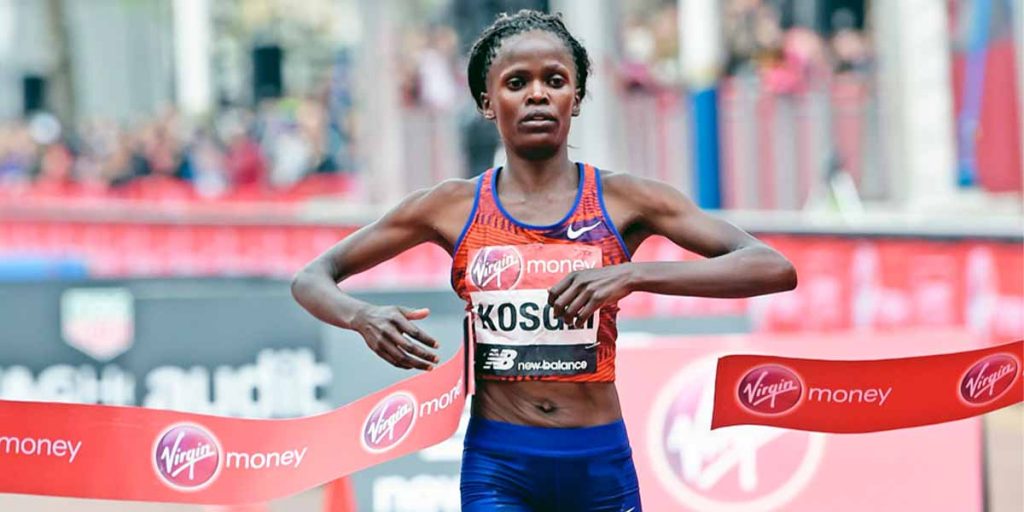 Having participated in 9 marathons so far, she has been the top two in 8 marathons. She participated in the 2019 London marathon competition and emerged as the youngest woman ever to have won the event.
Her favourite quote is, 'I kept saying, 'Tomorrow is my day.' I wanted to be the second Kipchoge – the Kipchoge for women. I focused on that.'
7. Vivian Jepkemoi Cheruiyot
She was born on September 11th 1983, and is popularly known as 'Pocket Rocket'. Vivian is the reigning Olympic 5000m champion. She participated in 2008, 2012, and 2016 Olympics and won herself silver, bronze, and gold medals.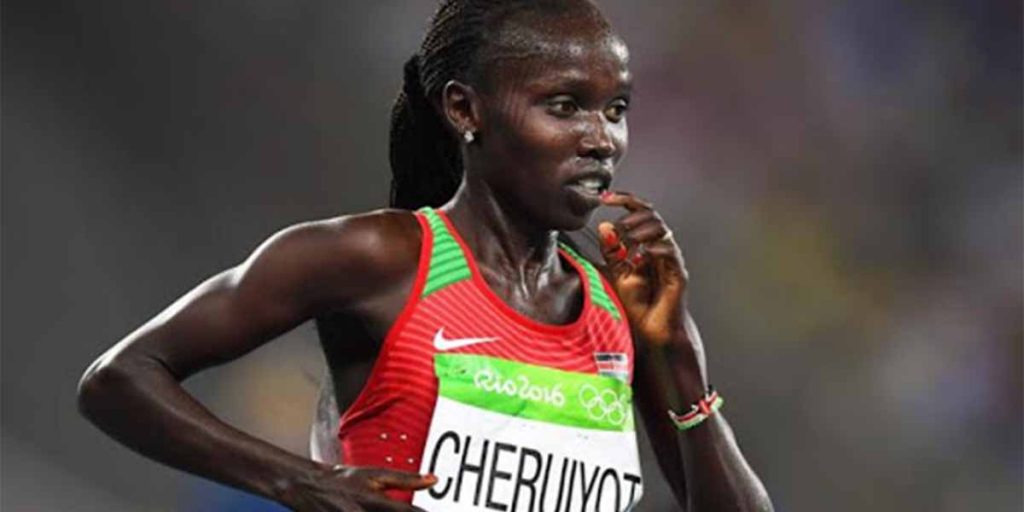 Vivian is an African champion holding Kenyan and Commonwealth records for 5000m. She is also a champion for the IAAF Continental Cup and a winner of the 2010 IAAF Diamond League title.
Her favourite quote is, 'I remember when I was passing her. I had that energy. I said today I am going to be an Olympic champion.'
8. The late Samuel Kamau Wanjiru
Born on November 10th 1986, the late Samuel was the first Kenyan to win an Olympic marathon gold after participating in the 2008 Olympics games in Beijing, China. In 2005, he set the World Junior Record in 10000m. He broke the world record in half marathon at 18. He also emerged as the world's youngest medalist in 2008 since 1932.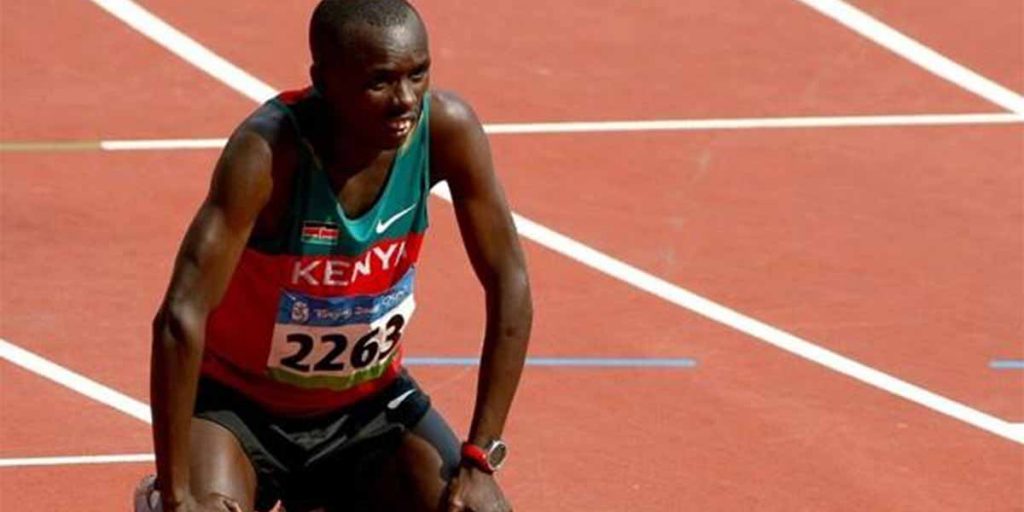 In 2009, Wanjiru won the London marathon and Chicago marathon in the United Kingdom and the United States and was recorded as the fastest marathoner ever. He died in 2011 after retaining his Chicago title in 2010.
His favourite quote was, 'I watched Bekele assisted by his brother Tariku and concluded they were good because they ran as a team and understood each other's capabilities.'
9. Pamela Jelimo
She was born on December 5th 1989 in Nandi, Kenya. In 2008, Pamela broke the 800m world record at 18 years, becoming the first Kenyan woman to win Olympic gold in Beijing. Besides, she is the first Kenyan to win the Golden League Jackpot worth one million US dollars.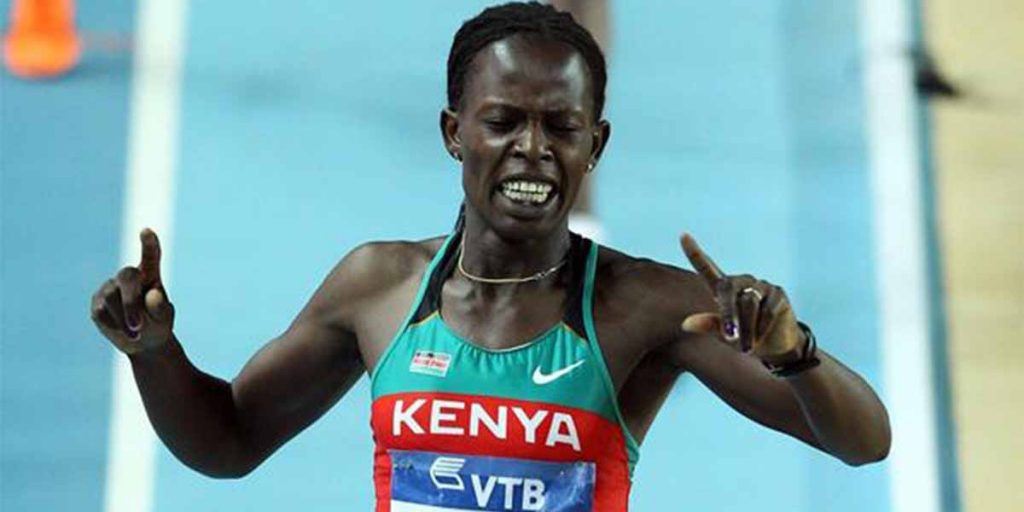 Moreover, Pamela holds the world junior record and senior African record in 800m. Her hard work made her win the 2008 Kenyan Sportswoman and the IAAF Revelation of the year award. She is a wife to Peter Kiprotich Murrey.
Her favourite quote is, 'One of the things that unite Kenyans is athletics.'
10. Janeth Jepkosgei Busienei
Born on December 13th 1983 in Keiyo District, Janeth is a middle-distance runner and is one of the best athletes in Kenya. She is popularly known as 'Eldoret Express.' Her father, Michael Busienei, was a good middle-distance runner of 800m. Surprisingly, her younger brother Dennis Kiprotich is also a middle-distance runner of 800m. Janeth won the 800m woman race in 2006 at Commonwealth Games in Melbourne, Australia, and African championships.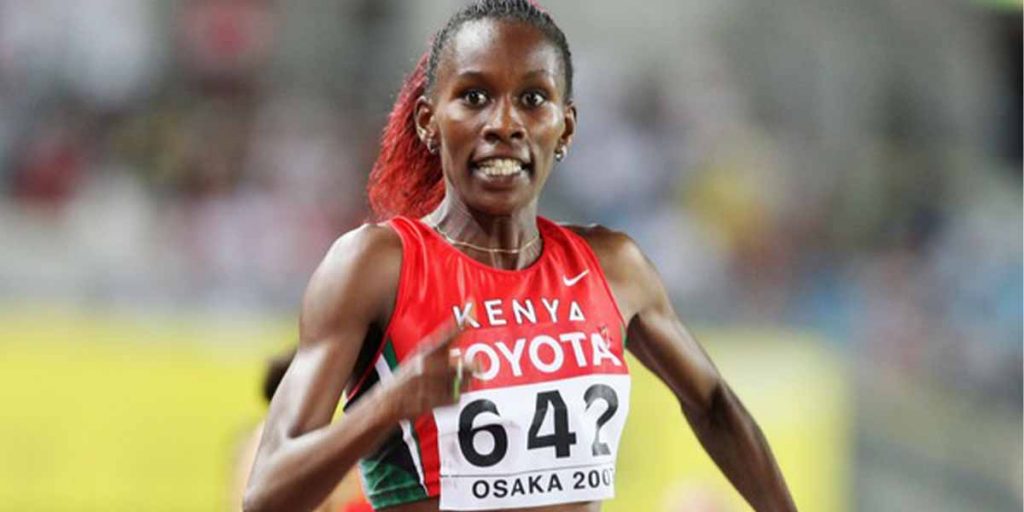 In 2007, she became the first Kenyan woman to win gold over 800m world title in Osaka, Japan. Besides, she won in the Diamond League meeting in Shanghai, China, the season of 2010.
Her favourite title is 'I always believe in experience.'
What do Kenyan runners eat?
Have you been wondering on what runners eat? Most of the Kenyan athletes' diet consists of vegetables, ugali, porridge, rice, lentils, and pasta.
READ ALSO: 20 best places to visit in Kenya you need to know
The list of the best athletes in Kenya is endless. Most of the athletes aim at nurturing young talents who can also make the country proud in the near future.
READ ALSO: