Hellen Osando Obiri is a long-distance Kenyan athlete who has long been synonymous with dominating the world of long-distance running. Born on December 13, 1989, in Boginchoncho village, Kisii, Kenya, Obiri has emerged as one of the most successful and revered figures in global athletics. Here is Hellen Obiri biography, with a deeper look into his life, family and net worth.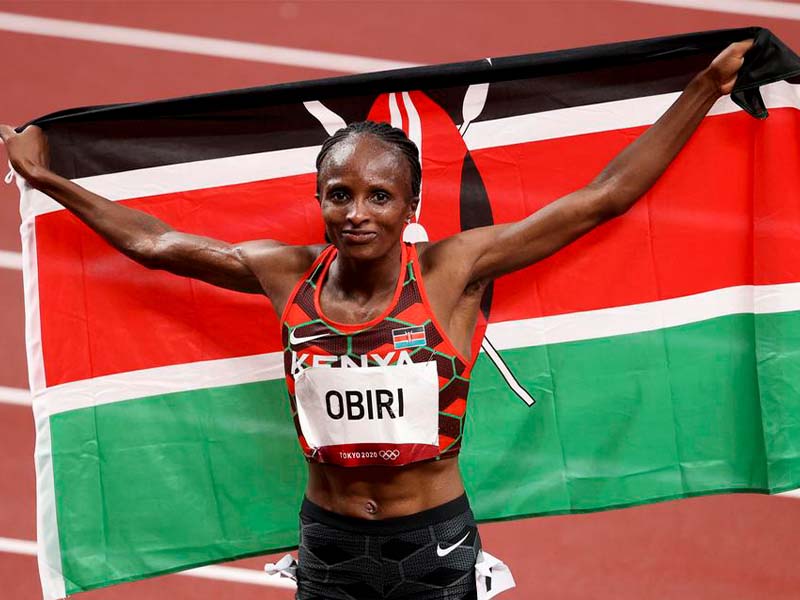 Obiri started from her early days as a spirited teenager competing in national athletics competitions, she has since grown to conquer tracks worldwide and become a two-time World Champion.
Hellen Obiri biography and profile summary
| | |
| --- | --- |
| Full name | Hellen Onsando Obiri |
| Date of birth | December 13, 1989 |
| Age | 34 years 2023 |
| County Birth | Kisii |
| Nationality | Kenyan |
| Spouse | Tom Simon Nyaundi |
| Gender | Female |
| Religion | Christian |
| Profession | Long-distance runner |
| Children | Blessing Tania |
| Net worth | $5 million |
Early Life and Education
Hellen Obiri is a proud member of the Kisii tribe and is the fourth child in a family of six children. Her father, Mzee Isaac Obiri.
As a young girl, her athletic prowess became evident when at the age of 14, she represented her school in the 200 meters and 400 meters during national athletics competitions.
Her journey took a brief detour as she shifted her focus from athletics to academics during her primary and secondary school years. However, the call of the track proved irresistible, and Obiri returned to competitive running, laying the foundation for an extraordinary career.
Career beginnings
Obiri's breakthrough came in the 2010 Kenya Armed Forces Cross Country Championships, where she finished 32nd. Undeterred, she continued to refine her skills and, with the guidance of Noah Ngeny, transitioned to middle-distance races. The decision proved wise as she qualified for the 2011 World Championships in Daegu, setting a personal best time.
The pinnacle of her career arrived in 2012 when she clinched the world indoor 3000m title.
From that point on, Obiri's list of victories became a testament to her dominance in long-distance running, including gold medals in the 2017 World Championships and the 2018 Commonwealth Games, among others.
Hellen Obiri husband and children
In her personal life, Hellen Obiri is happily married to fellow athlete Tom Nyaundi.
The couple is blessed with a daughter, Tania Blessing Macheche, born in 2015.
KDF Career
Hellen Obiri is a proud member of the Kenya Defence Forces (KDF). Obiri's journey in the military began with her training at the Eldoret Barracks.
After a triumphant performance at the Tokyo 2020 Olympics, she earned a well-deserved promotion to Senior Sergeant.
Hellen Obiri net worth
Hellen Obiri's success extends beyond the track, as evidenced by her estimated net worth ranging from $1 million to $5 million. This financial success is attributed to her winnings, salary as a KDF member, and lucrative endorsements and brand deals.
Additionally, her involvement in farming businesses contributes to her financial prowess.
Recent Triumphs
In 2022, Hellen Obiri continued to win medals in long-distance running.
Her victory in the women's 10,000 meters at the Commonwealth Games in Birmingham, England, set a new Games record.
Here is a summary of the victories that have defined her illustrious career.
the 3000m silver at the Sopot 2014 World Indoor Championships
the 3000m gold at the Istanbul 2012 World Indoor Championships
the 4 x 1500m gold at the Nassau 2014 IAAF World Relays
the 1500m gold at Marrakech 2014 African Championships
the 5000m silver at Rio de Janeiro 2016 Olympic Games
the 5000m gold at London 2017 World Championships
the 5000m gold at the Gold Coast 2018 Commonwealth Games
the 5000m gold at the Asaba 2018 African Championships
the 5000m gold at the Doha 2019 World Championships
the 5000m silver at the Tokyo 2021 Olympic Games
the 10000m silver at Eugene 2022 World Championships
the half marathon gold at the 2022 Istanbul Half Marathon
Boston Marathon 2023
Hellen Obiri's remarkable journey from the tracks of Kenya to global stardom serves as an inspiration, embodying the spirit of resilience that defines Kenyan athletes.
As she continues to make history, Obiri remains a beacon of inspiration for aspiring athletes worldwide.