Eliud Kipchoge is a Kenyan long-distance running sensation who has a remarkable history in sports. Kipchoge has not only achieved unparalleled success on the track but also accumulated substantial fortune in the process. With numerous marathon victories, lucrative endorsements and a diverse range of investments, Eliud Kipchoge net worth stands as a symbol of inspiration for athletes and enthusiasts worldwide.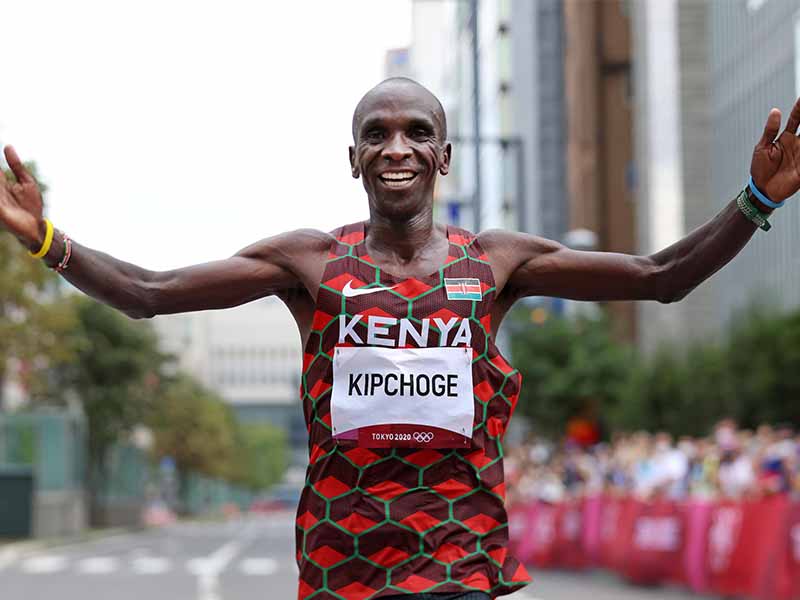 Born in Kipsisiywa, Nandi County, Kipchoge is 38 years old now and he continues to defy the limits. His recent victory at the 2023 Berlin Marathon where he crossed the finish line in an astonishing 2:02:42, marked his fifth triumph on the iconic Berlin streets.
Eliud Kipchoge net worth and profile summary
| | |
| --- | --- |
| Full name | Eliud Kipchogo EGH |
| Age | 38 years |
| Nationality | Kenyan |
| Gender | Male |
| Birthday | 5 November, 1984 |
| Birthplace | Nandi County, kenya |
| Marital Status | Married |
| Spouse | Grace Sugutt |
| Children | 3 |
| Net worth in 2023 | 250 million |
Eliud Kipchoge world records and achievements
Kipchoge's journey to greatness began in 2003 when he set the world junior record in the 5,000m track at the IAAF World Cross Country Championships.
Since then, he has won medals in the Olympic Games, World Cross Country Championships, Commonwealth Games, and numerous other prestigious competitions. His unmatched prowess in marathon running has garnered him the title of the "greatest of all time."
Kipochoge recently won the 2023 Berlin Marathon, where he crossed the finish line in an astonishing 2:02:42. This marked his fifth triumph on the iconic Berlin streets and further solidified his status as the fastest marathoner of all time.
However, Kipchoge's most celebrated achievement came when he shattered the two-hour marathon barrier in Vienna, completing the race in an astounding 1:59:40.
This historic accomplishment not only placed him in a league of his own but also earned him a place in the hearts of millions around the world.
In recognition of his monumental achievement, Kipchoge was awarded the Elder of the Order of the Golden Heart of Kenya (E.G.H.) by former President Uhuru Kenyatta.
Beyond the track, Kipchoge is an avid reader and holds a diploma in human resource management. He is also a diversified individual, with investments in real estate and farming, showcasing his business acumen and commitment to building a secure future.
Eliud Kipchoge net worth in 2023
Eliud Kipchoge's incredible success on the track has earned him substantial wealth.
His estimated net worth is approximately Ksh. 250 million, making him one of the millionaires in Kenya. One of his most prominent sponsorships is with Nike, a partnership that highlights his enduring influence in the sports industry.
When it comes to his house, Kipchoge resides in the upmarket Elgon View Estate, strategically located just a few minutes from his training camp.
Eliud Kipchoge's family, wife and children
Eliud Kipchoge came from humble beginnings. He was raised by his single mother, Janet Rotich, alongside three siblings.
He began honing his athletic skills in school during games and competitions, where his natural talent for running became apparent. In fact, during his primary school days, he used to run six kilometres to and from school daily.
Eliud Kipchoge is happily married to Grace Sugut whom he met through her brother.
Their connection began during their shared primary and secondary school years, and they have been together for 14 years. The couple is blessed with three children: two boys named Jordon and Griffin, and a daughter named Lynne.
Eliud Kipchoge net worth is a reflection of his extraordinary accomplishments both on and off the track. As he continues to defy the odds and shatter records, his legacy as one of the greatest long-distance runners of all time is set in stone, inspiring generations to come.