Julius Sello Malema is a prominent South African political figure known for his fearless advocacy for economic freedom and social justice. From his early years marked by humble beginnings to his current role as the leader of the Economic Freedom Fighters (EFF) Julius Malema biography is a tale to be reckoned with.
Malema was born on March 3, 1981, in Limpopo, South Africa and raised by a single mother who was employed as a domestic worker. He has since redefined his humble beginning to build an impressive political career.
Julius Malema biography and profile summary
| | |
| --- | --- |
| Name | Julius Sello Malema |
| Age | 42 years as of (2023) |
| Date of birth | 3 March, 1981 |
| Nickname | Juju |
| Nationality | South African |
| Spouse | Mantwa Matlala |
| Children | 3 |
| Occupation | Politician |
| Incumbent | Member of the National Assembly |
| Constituency | Limpopo |
| Party | Economic Freedom Fighters |
| Parents | Flora Mahlodi Malema |
| Net worth | $5 million |
Julius Malema education and early life
Malema's journey began in Seshego Township, where he was raised by a single mother working as a domestic worker.
Despite facing financial challenges, Malema attended Mohlakaneng High School in Limpopo.
In 2010, Malema achieved a significant milestone by completing a 2-year diploma in Youth Development at the University of South Africa.
Undeterred by obstacles, he returned to the same university the following year to pursue studies in Communications and African Languages.
His academic journey culminated in the attainment of a Bachelor of Arts degree in 2016, followed by a BA (Honours) in Philosophy in 2017.
Julius Malema's political ascension
Malema's political journey commenced at a remarkably young age when he joined the Masupatsela, a movement affiliated with the African National Congress (ANC), at the age of nine.
His early activism included activities like removing National Party posters outside police stations.
By the age of 14, Malema had assumed leadership roles within the ANC Youth League (ANCYL) and the Congress of South African Students (COSAS).
In 2008, he secured the position of president of the ANCYL, a role marked by controversy and allegations of irregularities.
Malema was re-elected unopposed for a second term in 2011. This displayed his political prowess and gained international recognition, earning him a spot on Forbes' list of the 10 Youngest Power Men in Africa.
Founding the Economic Freedom Fighters (EFF)
In 2013, Malema took a bold step by founding the Economic Freedom Fighters (EFF), a far-left political party with a focus on economic justice and empowerment.
The party made a significant impact in the 2014 general elections, securing 25 seats in the National Assembly.
Julius Malema wife and children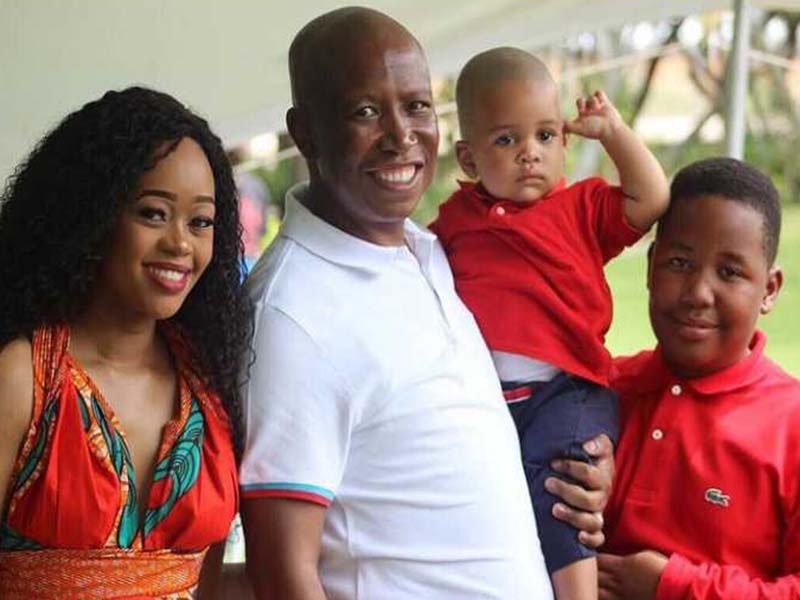 Beyond the political arena, Julius Malema finds solace in his personal life.
He is happily married to his longtime girlfriend, Mantwa Matlala, with whom he shares two children. Malema also has an older child from a previous relationship.
Julius Malema salary and net worth 2023
According to Stats SA, leaders from minority parties like Malema earn an annual salary of approximately R1.43 million (Sh11, 631,130).
His fondness for opulent automobiles, extravagant Swiss timepieces, and lavish celebrations is well-documented.
Despite facing controversies, Malema has garnered considerable recognition and respect, both domestically and internationally, for his contributions to South African politics and his commitment to social justice.
Julius Malema biography is a living testimony to the power of determination. As the leader of the EFF, he continues to advocate for economic freedom and social justice, and shaping the discourse on critical issues in the nation.
Love him or criticize him, Julius Malema remains a central figure in the ongoing narrative of South Africa's political landscape.