In recent days, Kenya has been buzzing with the baffling tale of Brian Mwenda Njagi, a man accused of posing as a High Court advocate, despite having no formal legal education. What's even more astonishing is that he claimed to have triumphed in 26 courtroom battles.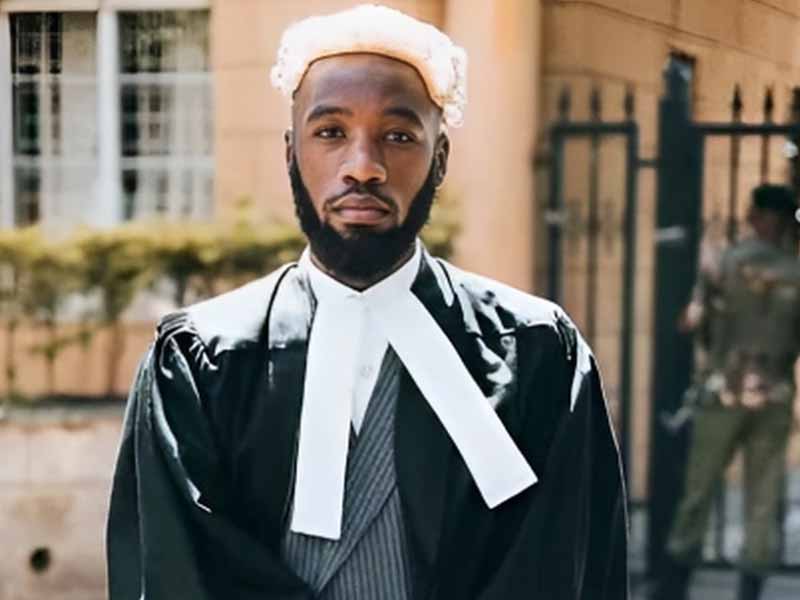 It's a story that's captivated both local and international audiences, but like any good legal drama, the truth is far from straightforward.
Brian Mwenda's name became a sensation thanks to video clips showing him in court, passionately defending clients and eloquently making legal submissions. The jaw-dropping part? He seemed to be winning it all. 26 cases to be exact!
The Law Society of Kenya (LSK), led by President Eric Theuri, stepped in to cast a shadow of doubt. The LSK declared that Mwenda's 26-case winning streak cannot be proven. They accused him of impersonation, a grave offence in the legal world.
Brian Mwenda Njagi educational background
Let's backtrack a bit to understand the man in the spotlight.
According to a video circulating on social media, Brian's father vouched for his son's credentials. Brian attended Kiriani Boys School before pursuing a diploma in criminology at a Nairobi college.
He then went on to Strathmore University, where he graduated in 2020. In 2021, he entered the Kenya School of Law and was admitted to the bar in December 2022.
How Brian Mwenda ended up as a lawyer
The heart of this perplexing saga lies in Brian Mwenda Njagi's impersonation of an actual advocate, Brian Mwenda Ntwiga, who coincidentally shares a similar name.
Ntwiga had been working at the Attorney General's office, a position that didn't require a practising certificate, hence, he had never applied for one.
Mwenda employed a cunning tactic known as the Business Email Compromise.
He accessed Ntwiga's LSK portal and, upon discovering that the advocate's status was inactive, he proceeded to activate it using his credentials.
To seal the deal, Mwenda reached out to the LSK secretariat to request an email change, stating that there was an error in the address.
With access secured, Mwenda altered his profile photo, workplace, and other details, even going so far as to pay for a practising certificate.
However, his ruse was unveiled when Ntwiga tried to access his own portal to apply for a practising certificate and encountered difficulties.
This prompted Ntwiga to alert the ICT department, revealing that the email on his portal did not match the one he had provided during his admission to the bar in August the previous year.
Arrest by the DCI
The consequences of Brian Mwenda Njahi's actions have been swift.
The LSK President summoned the Directorate of Criminal Investigations (DCI) to apprehend the imposter. Eric Theuri, the LSK President, made it clear that the evidence pointed to multiple cases of forgery and identity theft.
"Brian Mwenda Njagi is now at DCI," stated Theuri. "We are going to ensure that he faces the full force of the law. The evidence gathered so far points to several cases of forgery & identity theft. We are working closely with the DCI team to conduct thorough & extensive investigations. This case will be a deterrent for future masqueraders."
As the story unfolded, Kenyans took to social media, expressing divided opinions. Some praised Brian Mwenda for his alleged legal genius, while others vehemently called for his prosecution, insisting that his actions violated the very integrity that the legal profession should uphold.